Life news this week:
Saturday I did a little house cleaning but that tapered off into procrastination. I argued with someone about trivia quizzes and played with drawings a little before getting my blogging done.

Sunday I sat outside at my patio table and did my laundry. I decided to finally make Durian Juice based on the Steven Universe juice boxes, but durian is pretty smelly, so I did it outside. It was an adventure. Talked to my sister on the phone for a while during the aftermath of that, and also sent e-mail to people, did a bunch of drawings, and talked to Victor on the phone.

Monday I went back to work for a day. We had two letters of response to deal with but we got them both in in time. I set up everything for me being gone for a week, and then when I got home I did some art and played DDR. Fell asleep after my shower.

Tuesday was my first day of vacation. I finished some cleaning/preparation and then just drew pictures until Meghan arrived. We chatted while I did some inking, and then we went out to get food, came back, and she watched me color. I finished my drawings, which were fun representations of what Funko Pops might look like of some Steven Universe characters I wish existed as figures.

Wednesday I had a nice leisurely breakfast and coffee with Meg and eventually dragged my butt into packing for our trip. We got into Orlando in the afternoon, got some lunch in a restaurant, and checked out the Orange County Regional History Center where we saw some great Florida history. Then we headed to our hotel, got settled, and went back out to shop at Downtown Disney. We got pretty tired by the time we left. We went back to the hotel and crashed.

Thursday I turned 41! We got up early and went to EPCOT center after having breakfast in the hotel. We had a blast eating the special food, exploring Future World and World Showcase, shopping, riding rides, relaxing, seeing cute mini-movies, and enjoying each other's company. When we got back, we decompressed, listened to a Steven Universe podcast, and slept.


Friday Meg and I had hotel breakfast again, headed out of town and hit an outlet mall before getting back to Tampa, and had a visit from the pest control serviceman. I finished my webcomic and posted it online, and then we went to Drink and Draw. We chatted with the others and enjoyed the food there (I had my usual VLT). Great night!
My diet progress:
Went down one pound, so my last weigh-in was 117. Woohoo.
Reading progress:
Finished this week: Been on vacation all week and didn't make time for reading!
Currently reading: Drunk Monkeys Anthology Volume 3 by

Matthew Guerruckey

.
New singing performances:
This week's karaoke song is "River of Dreams" by Billy Joel.
Stuff Drawn:
I did a series of Funko Pop designs for the characters I wish existed as figures:
| | | | | |
| --- | --- | --- | --- | --- |
| | | | | |
| Bismuth | Greg | Early Garnet | Ruby and Sapphire | Jasper |
| | | | | |
| The Diamonds | The Pearls | Lars | Rhodonite | The Rutile Twins |
| | | | | |
| Fluorite | Padparadscha | Sadie | Buck | Jenny |
| | | | | |
| Sour Cream | Opal | Sugilite | Sardonyx | Rainbow Quartz |
| | | | | |
| Alexandrite | Smoky Quartz | | | |
Webcomic Negative One Issue 0714: "Hard to Hear."
New videos:
No new videos.
New photos:
My Durian juice
Attempting to drink Durian juice
In a spaceship! At the Orange County Regional History Center.
Teacup girls at Downtown Disney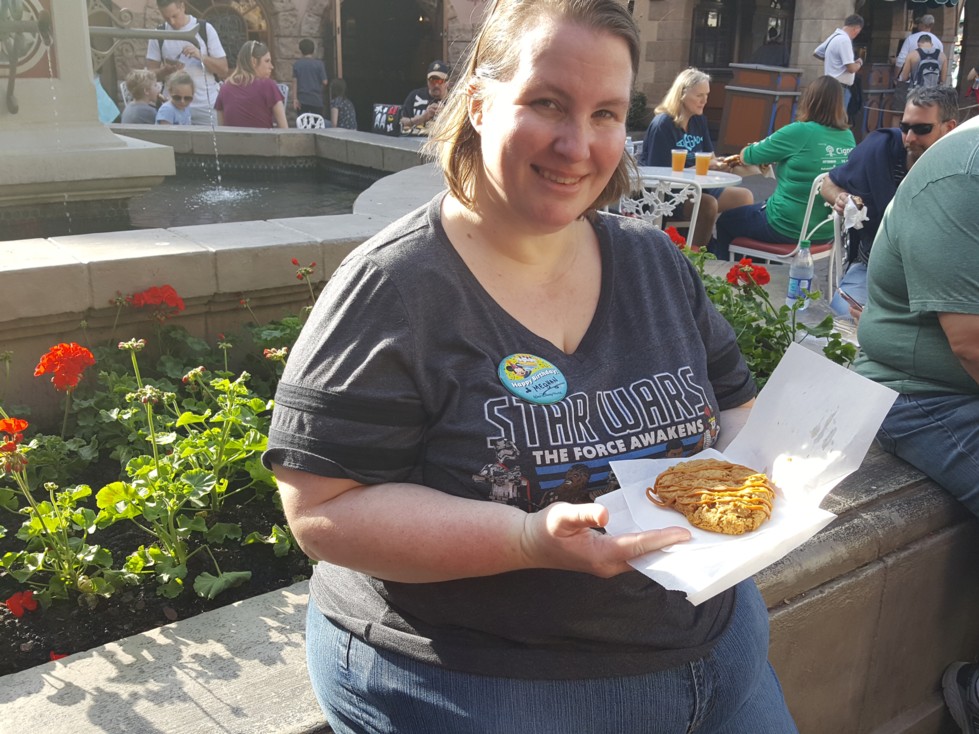 Meg's tasty cookie
Birthday Girl Buttons!
Below the ball
Social Media Counts:
YouTube subscribers: 5,238 for swankivy (2 new), 675 for JulieSondra (lost 1). Twitter followers: 963 for swankivy (lost 3), 1,343 for JulieSondra (lost 1). Facebook: 296 friends (1 new, new friend Lily!) and 207 followers (lost 1) for swankivy, 652 likes for JulieSondra (lost 1), 62 likes for Negative One (no change), 145 likes for So You Write (lost 1). Tumblr followers: 2,516 (1 new). Instagram followers: 167 (1 new).