Life news this week:
Saturday I had a lovely epic phone call with Yasmin and cleaned my living room while we talked. Then I spent the rest of the day finishing up the cleaning and doing my blogging. Also texted with Meggie and got some floors cleaned.


Sunday I mostly just did my housecleaning stuff and updated my sister about what I was doing because it helps motivate me. She cheered me on very helpfully. ;) I love having a clean house and knowing I am soon going to be able to invite vaccinated people over again has motivated me also. I got the entryway, hallway, and three bedrooms straightened up and cleaned. Plus laundry. After my shower I had some wine in bed to relax. :)


Monday I made a fancy breakfast and had a pretty low-key work day. I put away my laundry and watched videos from my sister, and played online games with my friends--was lovely to see everyone as usual.


Tuesday was another chill work day. I had to send plans to a bunch of people. After work, spent a bunch of time looking at the news because of the Chauvin trial. I also got my bathroom clean and recorded a karaoke song. Finished my webcomic drawings as well.


Wednesday work was again not very busy. I did some work in the garden area and went out with Jeaux to get groceries. I took a little nap in his car while he was in Walmart buying shoes. Then we cooked curry with tofu and put it on couscous. Delicious! We hung out and took walks and chatted until it was time for him to go home.


Thursday I cleaned up from our dinner prep and had another pretty slow work day. I've been able to get a lot of non-time-sensitive work done during these times. Did some more garden work and organized one of my closets. Talked to Victor on the phone and mostly the only thing he wanted to talk about was food. Argh.



Friday I knocked out my reports and timesheets and had to go to a meeting. Then after work I got the patio ready and my friend Fen came over! Exciting that we finally got to meet for the first time after knowing each other online for eight years. We chilled at the patio table (since I still can't have indoor visitors), set up some repellent incense sticks when the mosquitoes arrived, and ate snacks and Mexican food. It was so great and we chatted late into the night until they had to go back to the hotel to sleep. Success!
Health Plan Update:
Weight stuff: Seemed a little high this week, and I did eat more than usual all week but was also more active, so I guess sometimes stuff happens. Still well within normal fluctuations though. High weight: 112 pounds. Low weight: 110.8.

Nutrition stuff: I ate an unusual amount of candy (because it was there) and ate a lot of big meals. Got veggies in several times more than usual so I consider that part a win.

Activity stuff: I again made my step goal every day except the Friday my friend Fen came over. (We were sitting around talking so not much activity.) My high day was Saturday at 22,113 steps. My low day was Friday at 6,680 steps.
Reading progress:
Finished Reading: Nothing this week.
Currently reading: What If It's Us by Becky Albertalli and Adam Silvera. I'm on page 331.
New singing performances:
This week's karaoke song is
"Roadhouse Blues"
by the Doors.
Stuff Drawn:
New videos:
Curry with Couscous!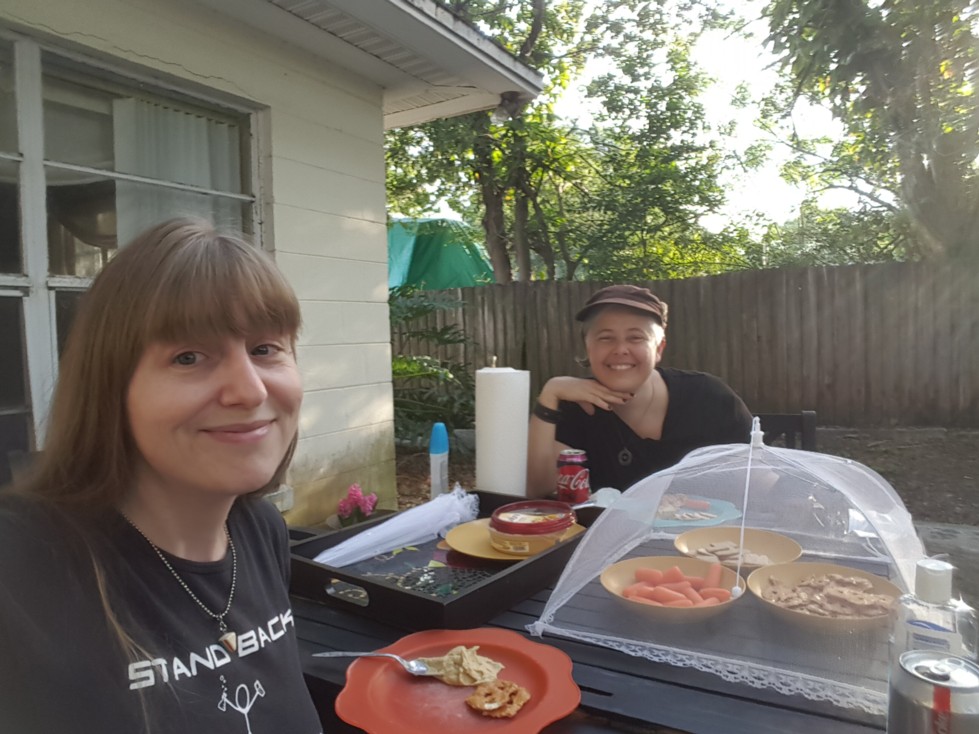 Hanging out with Fen
Social Media Counts:
YouTube subscribers: 5,286 for
swankivy
(1 new), 669 for
JulieSondra
(no change), 17 for
v & V Vids
(no change), 121 for
Not-So-Giant Women
(no change). Twitter followers: 931 for swankivy (1 new), 1,508 for JulieSondra (2 new). Facebook: 300 friends for
swankivy
(lost 1, don't know who), 627 likes for
JulieSondra
(3 new), 75 likes for
Negative One
(1 new), 226 likes for
So You Write
(no change), 87 likes for
Not-So-Giant-Women
(1 new).
Tumblr
followers: 2,468 (no change).
Instagram
followers: 231 (1 new).