Life news this week:
Saturday was mostly a day for Internet errands. I processed photos, did book reviews, deleted a bunch of phone photos to free up space, and did some updates to my Amino collections. Also worked on my book. I returned a call to my dad that I'd missed and he surprised me by saying he was marrying his longtime partner in just a couple days. Wow! In the evening I just worked on some podcast stuff.

Sunday I did laundry, worked on my book, and met up with Daria to do our podcast recordings for episodes 3 and 4. Then I did some planning for our next podcasts.

Monday I did work on proposal plans at work. Besides that, I did work on my book and more podcast prep. I did another recording session with Daria for episodes 5 and 6. And then I did nothing. My dad officially got married! It was a courthouse thing and I wasn't there.

Tuesday I did data entry, proposal stuff, and writing. I finally got to see Steve again and we went out to pizza and chilled at my house and ate Cookie Cats. So nice to catch up in person! After he left I recorded a new ace video.

Wednesday was kinda frustrating at work, but I got through it. I did data entry and sent three proposal plans to my boss! Whee. I worked on my book and went to Burger Monger with Jeaux. Then we finished watching She-Ra and after he left I baked a cake and played with trading cards.

Thursday we had the day off for Thanksgiving. I baked some rolls in the morning and went to my mom's with Victor and Jeaux. We had a great time playing games and eating the food. My mom kept apologizing for being exhausted and needing to rest but she did so well! She seemed to be in a really good mood and engaged with us and everything. We played one more board game and ate the cake I'd made for dessert, and then we all went home.


Friday I also had the day off from work. I spent most of it working on the webcoming and closing in on completing National Novel Writing Month. Didn't quite make it but I have one more day to meet the quota. Texted with my friend Victor about helping him get through the month since he's not yet employed. Jeaux wanted to go buy a cheap Nook e-reader from an online seller so he convinced me to go with him. We met the person and bought it, and Jeaux bought me a Denny's dinner. Then I finished my webcomic and went to sleep.
Interviews, Articles, Mentions:
Duck Soup quotes my book in an asexuality discussion.
NaNoWriMo progress:
Saturday, November 23: 1,752 words.

Sunday, November 24: 1,742 words.

Monday, November 25: 1,884 words.

Tuesday, November 26: 1,949 words.

Wednesday, November 27: 981 words.

Thursday, November 28: 1,896 words.

Friday, November 29: 1,790 words.
Reading progress:
Finished this week:

No books finished this week!
New singing performances:
This week's karaoke song is "Other Friends" from Steven Universe.
Stuff Drawn:
Some cool keys I drew on an envelope at work
Webcomic Negative One Issue 0759: "Paying Attention."
New videos:
Letters to an Asexual #73 is about how men think I should be catering to their needs to the exclusion of mine.
New photos:
Updated drink receptacle collection
Steve & me with Cookie Cats!
Yeasty Boys for Thanksgiving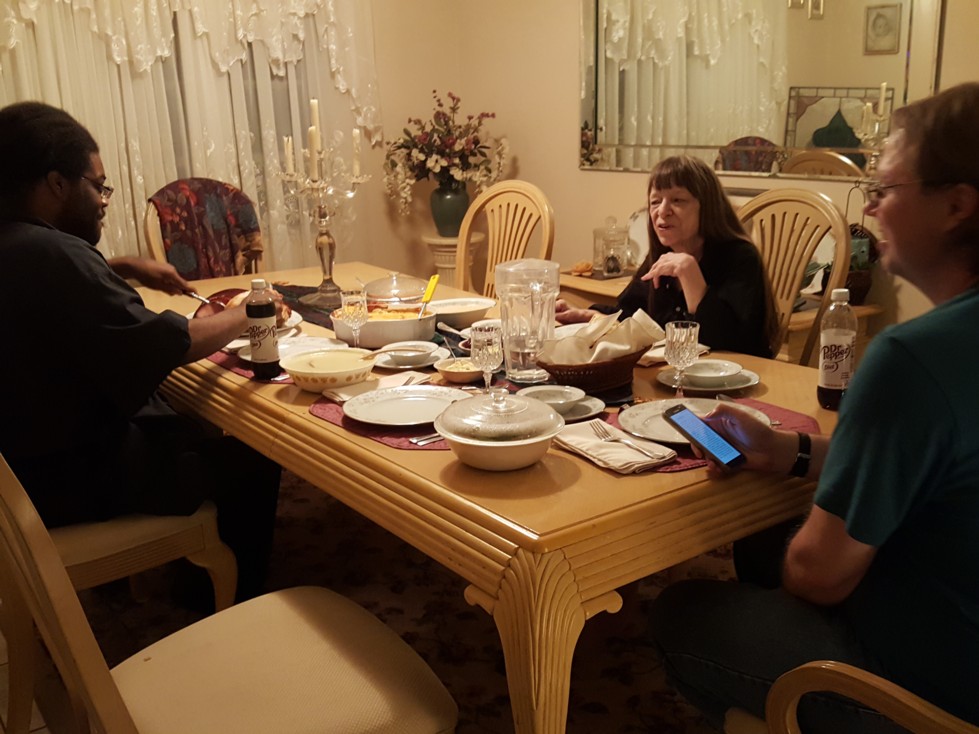 Mom and my friends eating
Dessert: My homemade pound cake!
Victor and Jeaux playing games!

Social Media Counts:
YouTube subscribers: 5,265 for
swankivy
(3 new), 681 for
JulieSondra
(1 new), 15 for
v & V Vids
(lost 1), 18 for
Not-So-Giant Women
(4 new). Twitter followers: 976 for swankivy (1 new), 1,354 for JulieSondra (lost 2). Facebook: 294 friends (no change) and 210 followers (2 new) for
swankivy
, 649 likes for
JulieSondra
(no change), 63 likes for
Negative One
(no change), 163 likes for
So You Write
(no change), 21 likes for
Not-So-Giant-Women
(3 new).
Tumblr
followers: 2,508 (lost 1).
Instagram
followers: 188 (no change).