Life news this week:
Saturday I spent catching up on a lot of stuff. I drank a lot of coffee because it was cold in the house and I didn't want to turn on the heat. I cleaned the dishes and I broke one of my Steven Universe drinking glasses! I bought a replacement online. I managed to clean and straighten up my whole house, which I'd let go for a little while, and felt much better. Then I did blogging and writing for NaNo, talked to my friend Steve, and huddled under an electric blanket for most of the night.

Sunday I got up pretty late but still did a lot. Did laundry, cleaned up some more, and worked on my ridiculous purple pear cake. I basically spent the whole day on it, and even though I made up a lot of the recipe stuff and included some substitutions, everything went right! In between making it, I talked to my sister to finalize our thoughts on Mom's Medicare, did karaoke, took out the trash, and got my writing done for NaNo.

Monday I spent a bunch of time on proposals at work. At home I worked on my book for NaNo, received a featured post on Amino for my purple pear cake, and received my cool pink vinyl of the SU movie soundtrack.

Tuesday I spent the majority of the day on proposals again. At home I finished my NaNo words and spent the evening working on editing the first episode of my podcast pilot with Daria! It took a long time. Oof. I also stayed up until a comic came out for Steven Universe and then I reviewed it and went to bed.

Wednesday was the launch for our new podcast

, Not-So-Giant Women! It's just Daria and me talking about Steven Universe; she's new to the show so each episode is a fresh reaction from her and then we discuss! Please subscribe if you're into that.
I was late getting up on Wednesday so I took Lyft to work. My driver recognized my shirt from SU and excitedly talked to me about the show--right at the end of the ride. Too bad, if she'd noticed it earlier we could have been talking the whole ride! Awww. At work I did proposal and letter stuff. I took a field trip to get comics at the end of the day. Jeaux came over after work and we ate at Applebee's. Then we watched She-Ra.

Thursday I took a day off work! My garage door was busted so I had a repair person come help me. Since I had the day off, I invited Mom to come over and SHE WAS EARLY. I signed her up for the Medicare plans my sister and I had decided on for her and it's finally done. Also I had to argue with her previous insurance company a little because I think she overpaid. Anyway! We also had some lunch and watched some videos and she brought my steam cleaner back after borrowing it. After she left I cleaned the steam cleaner, did maintenance on my water system, and scrambled to finish my NaNo words before Victor called and I drew comics while chatting with him. Also I received my aqua-colored vinyl record for SU! Hahaha.

Friday I spent the work day on RCI data entry and proposals. After work I did my NaNo writing and my webcomic. I had a little time after finishing before I was too tired to work anymore so I tried to clean some photos off my phone because it's getting full. Yikes!
Interviews, Articles, Mentions:
Aeon discusses asexuality leading off with a quote from my book.
Next Step Cake makes reference to my book while discussing the term "allosexual."
New reviews of my book:
Mara gave it a

four-star review

on Goodreads. (It's in German. The person says they liked the book but took off a star for being repetitive.)
NaNoWriMo progress:
Saturday, November 16: 1,402 words.

Sunday, November 17: 1,002 words.

Monday, November 18: 1,567 words.

Tuesday, November 19: 1,709 words.

Wednesday, November 20: 1,905 words.

Thursday, November 21: 1,174 words.

Friday, November 22: 2,387 words.
Reading progress:
New singing performances:
This week's karaoke song is "Sweet Dreams" by the Eurythmics.
Stuff Drawn:
Webcomic Negative One Issue 0758: "Not Watching."
New videos:
Our first podcast covers an introduction and a discussion of the pilot.
New photos:
Photos of my JUNGLE MOON FRUIT CAKE: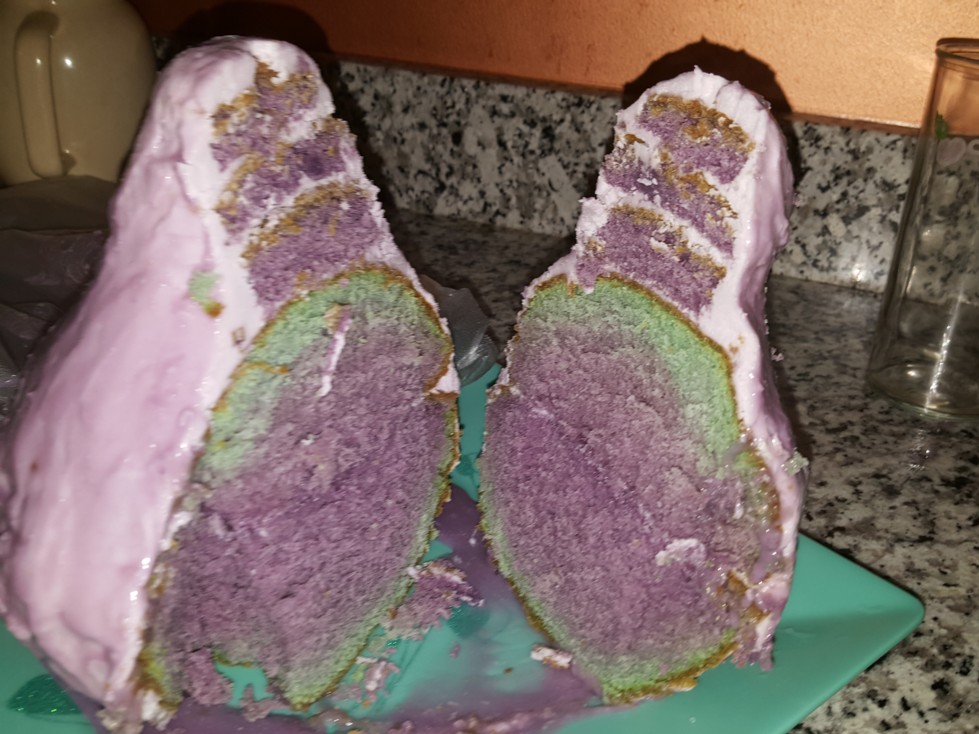 Cold at work, dressed in Steven Stars
New Gem sweater
New Amethyst sweater
Three different colored vinyls
Cat fingers
Hard to get a sandwich when your fingers are cats
Social Media Counts:
YouTube subscribers: 5,262 for
swankivy
(7 new), 680 for
JulieSondra
(no change), 16 for
v & V Vids
, 14 for
Not-So-Giant Women
(new channel, come like us!). Twitter followers: 975 for swankivy (lost 2), 1,356 for JulieSondra (lost 1). Facebook: 294 friends (no change) and 208 followers (no change) for
swankivy
, 649 likes for
JulieSondra
(no change), 63 likes for
Negative One
(no change), 163 likes for
So You Write
(no change), 18 likes for
Not-So-Giant-Women
(new page, come like us!).
Tumblr
followers: 2,509 (1 new).
Instagram
followers: 188 (lost 1).